Replace a lost or damaged TCard
You are responsible for the care of your card. If you lose or damage your TCard, the current fee for a replacement TCard is $20 CAD.
Damage can include use of stickers, hole punching, significant wear on the card within a short period of time, damage to the magnetic stripe or image.
If the card is defective through no fault of your own, the fee will be waived. This can only be determined by bringing your TCard to the TCard office where it can be assessed.
If you haven't lost or damaged your TCard but want to replace it (e.g. to update your photo), you can obtain a new card if you pay the $20 CAD replacement fee. A new photo will be taken, unless you are a student,and your previous photo is less than two years old. Keep in mind that you won't be able to review the photo before printing the new TCard. You'll be asked to return your old TCard to TCard Services.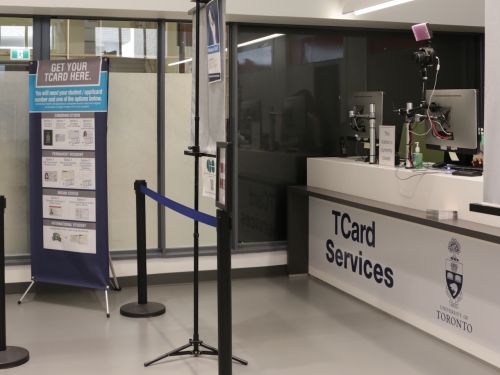 Steps to replace your TCard
Student | School of Continuing Studies | PGME
Staff/Faculty | Post Doc Fellows | Long Term Guests | UTS Students
Your new TCard will be active and ready to use for meal plan, library, building access and athletic services one business day after replacing it.
Once you have a replacement TCard, your previous balance will automatically be transferred to the new card. If you purchased a meal plan through your residence and experience difficulties using your TCard the next business day, contact your residence office for assistance.
If you find your lost TCard, but have already replaced it with a new TCard, you won't be able to reactivate it. You may only hold one TCard at a time, as per the TCard Terms & Conditions.
If you don't replace your TCard right away, you'll need to:
Report your lost card to the library:

Call 416-978-7694. Indicate your name, student number and utorid, or
Visit the circulation desk of any U of T library

Deactivate your meal plan/TCard+ account.
St George/UTSC: Report your card lost via eAccounts.
UTM: Report your card lost to Hospitality & Retail Services.
Writing midterms & exams without a TCard
Faculty who require student photos
Faculty members can also access the official student photo of students who don't have a TCard by accessing class composite reports via ROSI Express (RXP) or requesting a copy of their class composite report from their registrar or department coordinator.
Change your name on your TCard
To change your name on your TCard, you must first change your system name by contacting your registrar, business officer or Division of People Strategy, Equity & Culture contact.
Changes you make to your display first name via MyAuth will not be reflected on your TCard.
Once you've changed your name with your registrar, business officer or contact at the Division of People Strategy, Equity & Culture, you can also change your TCard. In order to avoid replacement fees, you must turn in your previous TCard.
You'll need to bring valid government photo ID matching your legal name for identity validation only.
For more information on how to change your name/gender on ACORN/HRIS, get a new email, and other resources, visit the Sexual & Gender Diversity Office website.
Get a new service animal indicator
Once you get a replacement TCard, you can request and pick up a replacement Service Animal indicator at:
For additional information, please visit the University of Toronto AODA Office website.